Mountain Ride
to the Rübezahl-Alm pasture farm
We set off in the morning and follow the Weißache Stream in the direction of the Schnaps brewery as far as the bridge. Travelling up a fairly steep path we reach the area known as "Egg" and take a short break at the Guesthouse Hochschwendt. We then take a woodland path to the locally famous and popular Rübezahl Mountain farm and guesthouse. First we spend a little time by the Rübezahl Lake where our horses enjoy a well earned rest and a little grazing. We carry on a little further on foot to the guest house where there is a wonderful view of Ellmau and a breathtaking view of the Wild Emperor Mountains. We then have the option to take advantage of the local specialities on offer such as Wiener Schnitzel, Tiroler Gröstl or Kaiserscharrn.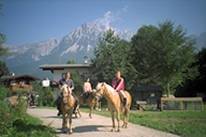 After a ride around the lake we take the route back down. We travel along a very rough track to Oberleiten and Auntie Wetti. Her husband Alois has openend a mountain cafe and we enjoy a coffee and an apfelstrudel. Last but not least we head home to Achlhof.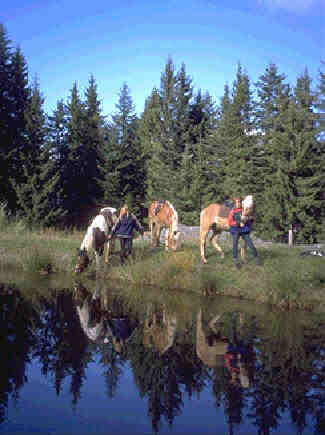 Equipment? Nothing special required. Because some walking is necessary good walking shoes as opposed to riding boots are a good idea. A rucksack for such essentials as a hairbrush, a lipstick and sweets is a good idea too.
If we have 3 people interested we ride. It takes 5-6 hours and costs € 59 and € 55 for houseguests.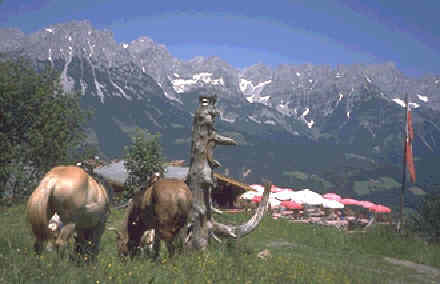 PS: By the way, the following saying hangs outside the Haflingergetränke in Ellmau: "If you think I can´t drive you should see me riding a horse!!"
Packhorse Walking
Barefoot Path