PACKHORSE WALKING
in the Wilder Kaiser
Experience one of the easiest ways of walking with Schecki and I: walking without having to carry your own rucksack. Get closer to nature with us as we traverse parts of the imposing protected areas of the Wilder Kaiser. Go back in time and see how our predecessors used to use horses both for fieldwork and for carrying goods up narrow paths to the mountain huts.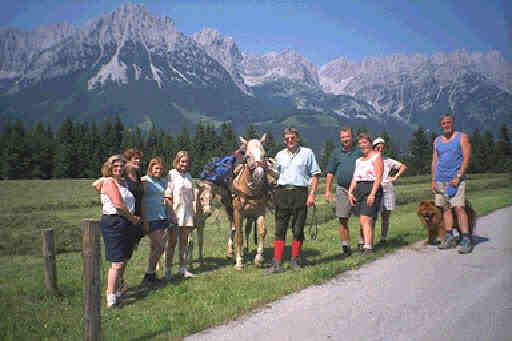 1st day: walking time 5 - 5 1/2 h
10.00 am: We saddle up Schecki and set off down the gravel track along the Weißache stream. We pass by the Schnaps distillery, follow a lovely meadow path to Scheffau and have a pic-nic at the picturesque Hintersteiner lake. A gently track takes us up to the Walleralm hut. The last part is the steepest and most spectacular, as we climb up to the Kaindl hut, where we will enjoy a traditional evening and spend the night.
2nd day: walking time 4 1/2 - 5 h
After a hearty breakfast we set off down through the woods back to the Hintersteiner lake, and then via Schießling follow the banks of the stream back towards Scheffau. After Horngach we stop off at the Gasthof Zingerle to fortify us for the rest of the way. We then return to the Achlhof via Mühlberg.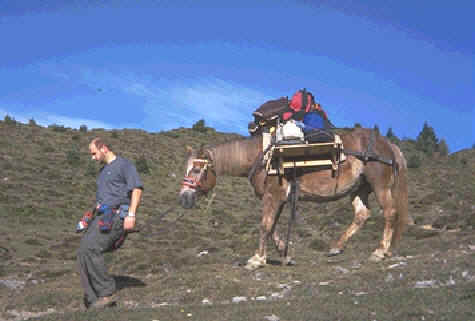 Dates: May , June until end of October. 1st walk in the 2nd week of May. More than 4 people may choose their own date.
Price: € 89,-; children under 12 half price, includes two-day walk with horse and guide, one night's bed and breakfast in a mountain hut.
Grade: Easy to medium, possible for anyone of normal fitness. Not suitable for children under 8.
Equipment: Walking boots, waterproof clothing, rucksack.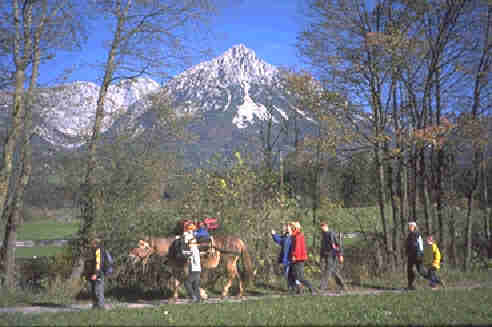 I look forward to showing you a wilder part of the Wilder Kaiser in this unusual manner.
P.S. The night you are away you do not pay for the room!
More information about the former packhorse trade
Present Ideas
Women's Hearts
Barefoot Path
Discovery
Riding
Our Carriage Rides
3 Day Journey
more horse pictures
Our Achlhof
Back to the 1st page