Horse-Drawn Carriage Ride
like in the Good Old Days
A wonderful DAY OUT just like the good old days. Leave the car at home a full day relaxing horse drawn carriage ride pulled by two horses. Instead of engine noise the pleasant "whoa" and "giddy up"of the local horse carriage driver. Enjoy the view of the "Wild Emperor Mountains" from angles you don´t usually get to see them from.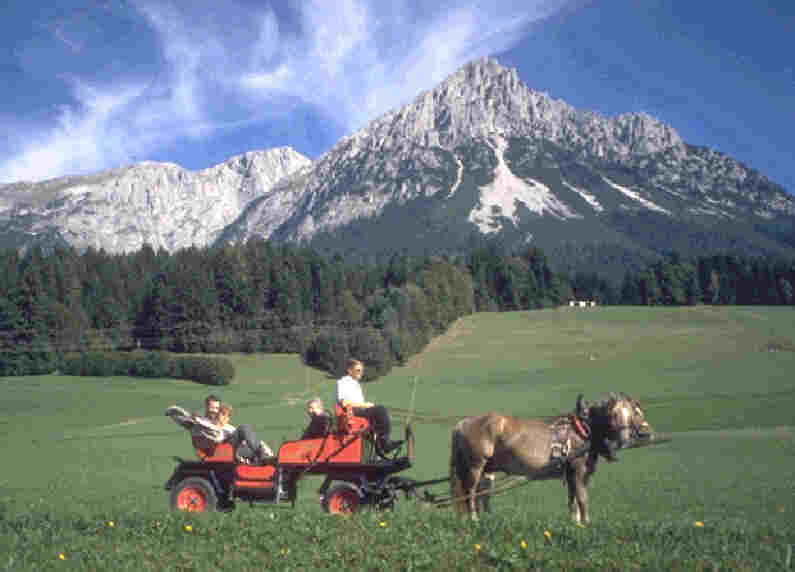 At 10.00a.m spectate whilst the horses are being saddled up. Then departure from the "Achlhof" in the direction of Ellmau village. Past the local church and straight onto the oldroad in the direction of the "Gasthaus Blattlhof", over the "Millionenbrücke" (Million Bridge) through the woods to Going. There we take a short rest at the village fountain. We drive through Prama to "Badesee" bathing lake. Through the woods we come to Aschau and then down a steeper bit to "Reisch". We follow the "Reither Ache" river and a little way up to "Linderbrand" . From here there is a spectacular view, and probably the best view of the "Wild Emperor Mountains" with views of the rugged peaks of the "Regalm" the "Ackerl" and "Mausspitze" peaks. We have a little breather at the bench at "Rerobichl". Then comes the last few meters of our ascent to "Gasthof Bichlwirt". Usually the landlady is waiting at the door for us and welcomes us from afar. The two horses now get at least an hours rest and we can have a hearty lunch with all the trimmings.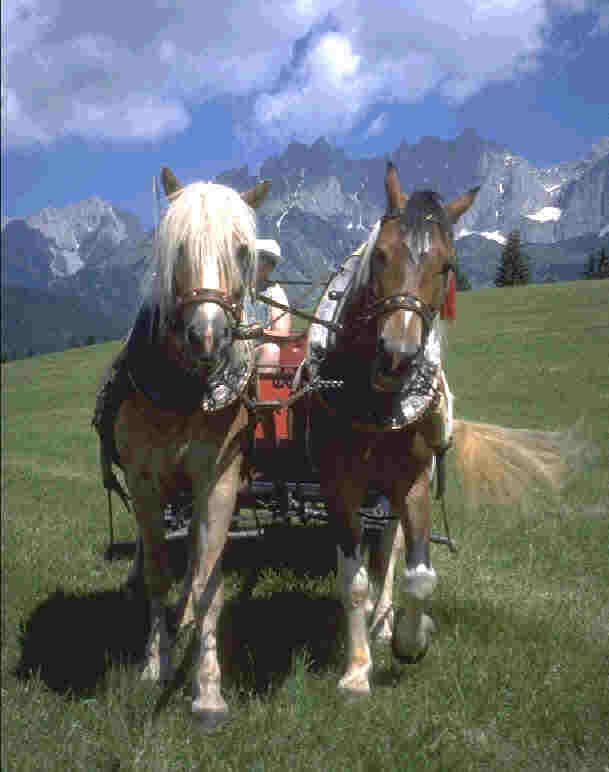 After appreciating the spectacular views from the height of the "Bichlhof" we set off in the direction of the "Gasthof Reinache" From there we follow the "Reither Ache " river to the "Fritzenbauer" farm. As we go over the rise of the "Ebnerbichl" we arrive at the famous "Stanglwirt" and then we follow the wooded paththrough"Au" to "Going". We are now on the old road the former "Bundesstrasse ." Over the rise of the "Marcherhöhe" we arrive at the "Cafe Ritterhof". Wether it´s coffee and cake, an ice cream or a beer, at Luise´s everything tastes good! With all these wonderful impressions we return through Ellmau village and back to the "Achlhof".
Price 34 € adults
Children under 12 can travel at half price!
Total length of trip 10.00 a.m till 3.00 p.m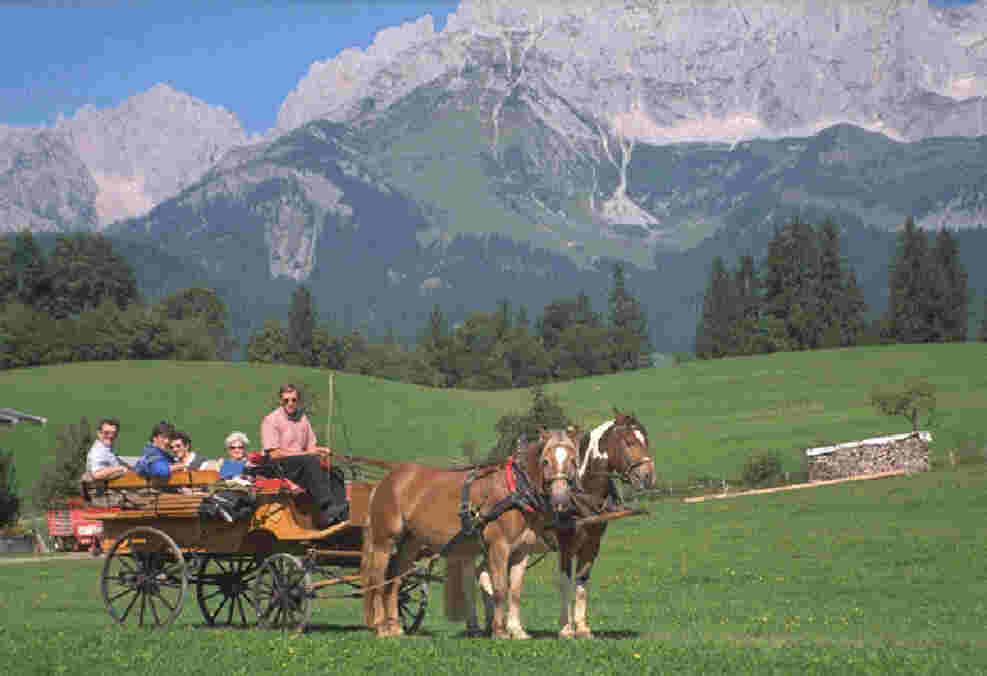 Register by
Franz Köck, "Achlhof",
Austraße 31, A-6352 Ellmau Tel. 0043/5358/2809
e-mail: achlhof@aon.at
P.S. We have a number of tours similar to this day tour, simply inquire.
Present Ideas
Women's Hearts
Children's Hearts
Discovery
Our Achlhof
Back to Our Carriage Rides